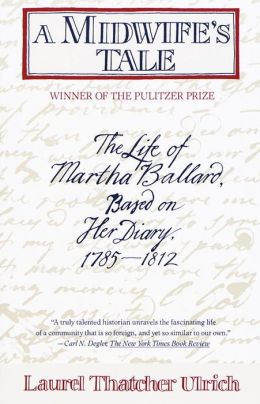 The book is A Midwife'sTale: The Life of Martha Ballard, Based on Her Diary, 1785-1812 by Laurel Thatcher Ulrich.
The unfinished research is my own.
It has been one year since I finished graduate school and moved from Boston. While living in the city, I never had the time I would have liked to spend at the New England Historic Genealogical Society (NEHGS). I spent my last few free days, between my thesis presentation and graduation, frantically scanning microfilms of deeds and probate records for my colonial Massachusetts ancestors. Now, a year later, I am finally finding the time to read through these records, transcribe them, and add the information to my database. Today I had an OMG moment—three times.
The first time was thanks to Amos Putnam, my 7 times great-grandfather (a descendant of the Putnams of Salem fame). I was adding his property transactions to my database when I came across one in 1770 for land in Oxford, Massachusetts. I had copied from the index that the land was bought of Ephraim Ballard and did not think anything of it—until I was looking at the bottom of the deed for the exact date. Right below the date was the language where his wife released her dower rights. Ephraim's wife was Martha Ballard. Ephraim and Martha Ballard. It rang many bells in my head. You see, one of those Master's degrees I just got was in history and my specialization was social history. I have read A Midwife's Tale: The Life of Martha Ballard, Based on Her Diary, 1785-1812 many times and seen the PBS documentary based on the book more than once. This book is seminal in the study of social and micro histories, helping to legitimize both as "real" history. My copy of A Midwife's Tale has been signed by the author, Laurel Thatcher Ulrich. I have heard Professor Ulrich speak. Needless to say, this book means a great deal to me. And now I have a personally connection to it. To say I was floored would be an understatement. And it only gets better.
My second "OMG" moment comes courtesy of the PBS documentary about A Midwife's Tale and, more specifically, its accompanying website. On that site is a timeline detailing American history, medical history, and Martha (Moore) Ballard's history, showing how the three intertwine. This is the first time I really noted that Martha's maiden name was Moore. Right before I was working on the deeds of Amos Putnam, I was transcribing the deeds for Collins Moore, also of Oxford, Massachusetts. Could Martha and Collins be related? I had a possible father for Collins Moore, Richard, but had not really done any research on that line. The PBS website's timeline listed Martha's grandfather as Richard Moore. Furthermore, Richard Moore was one of the founders of Oxford. Ten minutes doing research online pretty much confirmed that my Collins Moore was indeed the son of Richard Moore; which would make him the uncle of Martha (Moore) Ballard. Having lived in the same small town, they would have known each other. I not only have a personal connection to A Midwife's Tale, I am related to Martha Ballard. This find earned a squeal.
My third "wow" moment came after I got home and dug out my copy of A Midwife's Tale. I re-read the introduction and re-learned that Martha (Moore) Ballard's sister, Dorothy, married Stephen Barton. Their granddaughter was Clarissa Harlowe "Clara" Barton, founder of the American Red Cross. That's quite a few connections for one day.
Another accomplishment, of sorts, today: by researching my Moore line, I finally passed 5,000 people in my database.